Our Approach
When it comes to Excellence via Quality, Innovation and Savings, we mean business.
Let's break that down.
At Tek-Data, our primary aim is to help you achieve your business goals in the most effective way possible. To do so, we will keep one thought at the front of our minds. Business excellence!
Speaking of our approach to business excellence covers an enormous field and we need to choose where best to act. We focus on areas that integrate with our business strategy.
It is integral to our business strategy to ensure that in the current economic scenario, our vision, mission and values will maintain an unwavering focus on addressing the long-term challenges that the world faces while focusing on re-establishing confidence and trust in our businesses.
The following are the specific areas which have been at the heart of our business strategy for some years.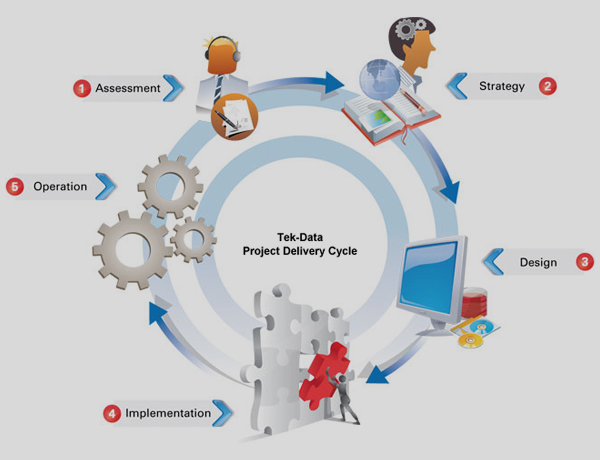 Relevance to our markets - We will continue to help you manage high savings to deliver solutions across various industry verticals including Financial Services, Retail & Consumer, Life Sciences & Healthcare, Hi-Tech & Manufacturing, Telecom and Media & Entertainment (M&E).
Maximize our contribution by using the best of our capabilities and infrastructure - Being the leading client-centric solutions provider company, Tek-Data provides complete visibility into the progress of ongoing projects and agreed-upon SLAs, while remaining on-time, on-budget, and on-quality. The delivery cycle chart shows Tek-Data's five-step project delivery method.
Add distinctive value for our business and countries we operate in - For building a sustainable business and being recognized among our clients from different countries, we will continue to demonstrate that the way Tek-Data works has been focused on creating long-term value for clients, investors and society as a whole.
Responsible customer care and relationship - Customer Care is one of the prime considerations for our business. We are committed in treating our customers fairly through the highest levels of service, transparency and responsible banking practices.
Corporate responsibility and environmental commitment - Tek-Data is committed in reducing our environmental impact and helping others to do the same. We will use our expertise and resources to help communities develop and economies grow. We will contribute to the development of the society in areas of the basic necessities of access to safe drinking water, energy, food and healthcare.
Great place to work - At Tek-Data, we believe that every individual possesses talent and make every effort to facilitate the harnessing of that talent so that it becomes the engine for the growth of the individual and the organization. We strive to create an empowered environment for making our people feel valued, included and engaged.